Witam szanownych kolegów!
Tym razem to ja muszę prosić o Wasze wsparcie, albowiem mam dziwny problem, który próbowałem rozwiązać samodzielnie na różne sposoby, lecz wszystkie zawiodły i skończyły mi się już pomysły. Być może ktoś z Was wpadnie na coś, co mi umyka. Ale do rzeczy.
Otóż przedwczoraj (tj. 5 maja 2023 roku) podczas uruchamiania systemu zamiast pulpitu na ekranie mojego monitora ukazał się następujący komunikat:
                           e
rror: disk `,gpt2' not found.
Entering rescue mode…
grub rescue>

Ponieważ pora była już późna postanowiłem spróbować rozwiązać problem na szybko, chociaż nie wiązałem z tym pomysłem wielkich nadziei - odpaliłem live pena i spróbowałem przy pomocy Timeshift'a przywrócić migawkę BTRFS z poprzedniego dnia - rzecz jasna pomysł nie wypalił.
Dopiero dzisiaj znalazłem czas, żeby usiąść do kompa na dłużej i zająć się sprawą na poważnie.
Na początek postanowiłem wykluczyć awarię sprzętową lub błedy w tablicy partycji. W tym celu utworzyłem na wolnym miejscu na podejrzanym dysku nową partycję i wrzuciłem na nią plik tekstowy, następnie udało mi się go odczytać:
Dysk przed utworzeniem nowej partycji: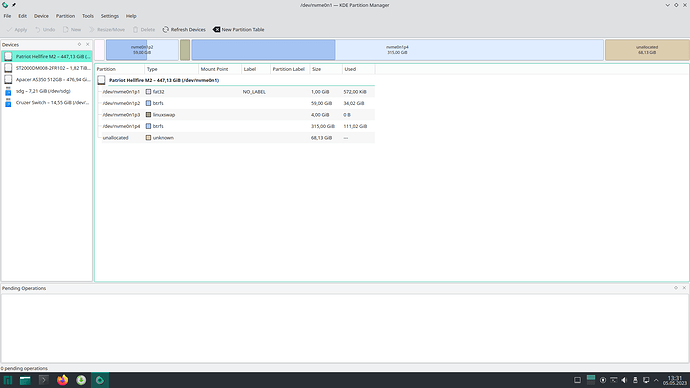 Dysk po utworzeniu nowej partycji: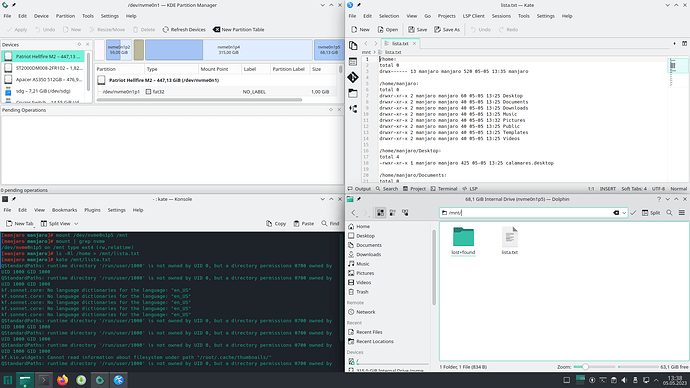 Stwierdziwszy, że dysk prawdopodobnie jest sprawny spróbowałem przeinstalować program rozruchowy według instrukcji podanych na stronie:
https://wiki.manjaro.org/index.php/GRUB/Restore_the_GRUB_Bootloader#Overview
Niestety i tym razem po ponownym uruchomieniu komputera ujrzałem ten sam komunikat o błędzie. Wtedy postanowiłem skorzystać z ,opcji atomowej" - za pomocą polecenia dd utworzyłem na zewnętrznym dysku USB obrazy wszystkich partycji z podejrzanego dysku, każdą w osobnym pliku, żeby mieć ich kopie zapasowe. Następnie na nowo zainstalowałem system, formatując partycję rozruchową (efi) oraz systemową (/), partycję domową (/home) pozostawiłem bez zmian.
Po restarcie komputera wciąż widzę ten sam błąd i nie wiem co dalej począć…
Model dysku twardego to Patriot Hellfire M2 – tablica partycji GPT; wszystkie partycje sformatowane systemem plików BTRFS.
inxi -DLMoPpRS:
System:
  Host: manjaro Kernel: 6.1.25-1-MANJARO arch: x86_64 bits: 64
    Desktop: KDE Plasma v: 5.27.4 Distro: Manjaro Linux
Machine:
  Type: Desktop Mobo: MSI model: Z170A PC MATE (MS-7971) v: 2.0
    serial: F916323830 UEFI: American Megatrends v: A.40 date: 09/07/2015
Logical:
  Message: No logical block device data found.
RAID:
  Message: No RAID data found.
Drives:
  Local Storage: total: 2.74 TiB used: 1.1 MiB (0.0%)
  ID-1: /dev/nvme0n1 vendor: Patriot model: Hellfire M2 size: 447.13 GiB
  ID-2: /dev/sda vendor: Seagate model: ST2000DM008-2FR102 size: 1.82 TiB
  ID-3: /dev/sdb vendor: Apacer model: AS350 512GB size: 476.94 GiB
  ID-4: /dev/sdg type: USB vendor: Wilk model: N/A size: 7.21 GiB
  ID-5: /dev/sdh type: USB vendor: SanDisk model: Cruzer Switch
    size: 14.56 GiB
Partition:
  ID-1: /mnt size: 14.55 GiB used: 1.1 MiB (0.0%) fs: vfat dev: /dev/sdh1
Unmounted:
  ID-1: /dev/nvme0n1p1 size: 1024 MiB fs: vfat
  ID-2: /dev/nvme0n1p2 size: 59 GiB fs: btrfs
  ID-3: /dev/nvme0n1p3 size: 4 GiB fs: swap
  ID-4: /dev/nvme0n1p4 size: 315 GiB fs: btrfs
  ID-5: /dev/sda1 size: 400 GiB fs: ntfs
  ID-6: /dev/sda2 size: 200 GiB fs: ntfs
  ID-7: /dev/sda3 size: 1.23 TiB fs: ntfs
  ID-8: /dev/sdb1 size: 100 MiB fs: vfat
  ID-9: /dev/sdb2 size: 16 MiB fs: N/A
  ID-10: /dev/sdb3 size: 476.83 GiB fs: ntfs
  ID-11: /dev/sdg1 size: 3.88 GiB fs: iso9660
  ID-12: /dev/sdg2 size: 4 MiB fs: vfat


Zastanawiam się, czy ten komunikat aby na pewno pochodzi od programu rozruchowego Manjaro. UEFI (teraz to wgrywają w pamięci flash płyt głównych zamiast BIOS-a) w mojej płycie głównej* posiada wbudowaną prymitywną uniksową powłokę tekstową, więc nie wiadomo, czy nie posiada również własnego GRUB-a.
*Model płyty głównej: MSI Z170A PC MATE (MS-7971)
Oprogramowanie płyty głównej: MSI Click Bios 5 version E7971IMS.A40 z 09.07.2015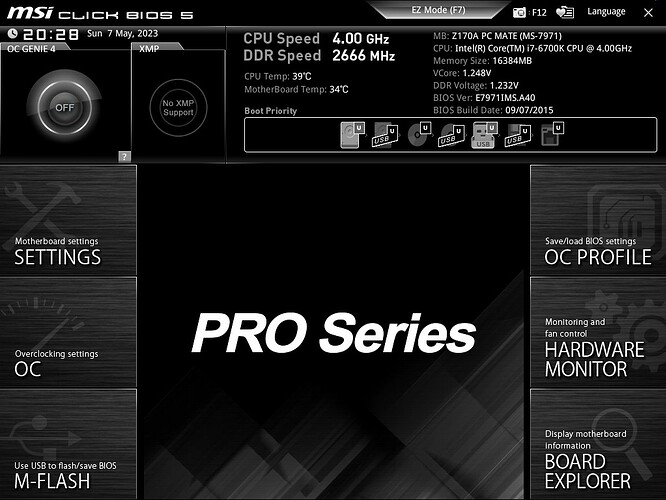 Darzę ją ograniczonym zaufaniem, ponieważ parę lat temu, gdy miałem w niej zamontowany tuner TV w trakcie burzy piorun uderzył w antenę telewizyjną. Z dymem poszedł telewizor i wspomniany tuner podpięty do anteny za pomocą rozgałęźnika antenowego, ponadto na płycie zdechły wszystkie gniazda PCI, trzy spośród czterech gniazd pamięci RAM, drukarka podpięta do komputera kablem USB oraz router, do którego był podpięty komputer za pomocą kabla. kilkanaście miesięcy po tamtym zdarzeniu zaczęły mi świrować napędy optyczne - w losowych momentach uruchamiały się jakby próbowały odtwarzać płytę, chociaż były puste albo samoczynnie wysuwały i wsuwały tacki na płyty. W końcu odpiąłem od nich wtyczki - teraz to tylko atrapy służące za zaślepki do dziur w obudowie. Cała przytoczona historia świadczy o tym, że skutki tego wypadku z piorunem mogą się pojawiać z wielomiesięcznym opóźnieniem i nie wiem, czy zaistniała obecnie sytuacja nie jest przypadkiem związana z tą historią. Niestety nie mam innego komputera, do którego mógłbym podłączyć mój dysk i sprawdzić, czy działa.